Description: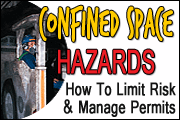 Many workplaces contain spaces that are considered "confined" because their configurations hinder the activities of employees who must enter, work in, and exit from. Every year, hundreds of workers suffer needless injuries, even death, due to inadequate understanding of confined spaces safety requirements.

While Entrants and Attendants have critically important responsibilities, the ultimate responsibility rests with the person assigned as the Entry Supervisor.

Join us for this informative audio conference which will focus on not only the technical aspects of confined spaces, but on the very important Entry Supervisor responsibilities, including completing the permit process correctly, ensuring proper training for Attendants, and how to be prepared for rescue operations.

Learning Objectives:
What constitutes a confined space - and why understanding the definition is critical
The types of confined spaces and the procedures for entering each
The three topics that employers must include in confined space training
Determining the classification of confined spaces using the Confined Space Decision Chart
Evaluating configuration, physical, psychological, and atmospheric hazards in confined spaces
Identifying and controlling the three types of atmospheric hazards that may exist in confined spaces
Safe entry procedures for confined spaces - and why permit completion is so important
Responsibilities of Entrants, Attendants, and Supervisors
Types of safety equipment to use in confined spaces
Rescue procedures and how they impact the safety of Entrants, Attendants, and Supervisors
Why Lockout/Tagout is an essential part of confined space entry
The Fed-OSHA confined space regulations and requirements
The critical elements that must be included in a best-in-class confined space program
Overview of the new Confined Spaces in Construction standard
Discussion of the proposed standard: Discussion of NFPA 350 - Best Practices for Confined Space Entry
About Your Presenter:
Michael Lawrence is principal of Summit Safety Technologies based in Long Beach, California. Lawrence is an accomplished safety manager, technical trainer, and instructional designer, and has been training adult workers and safety professionals for many years. He is a frequent speaker and is recognized for his expert knowledge of safety regulations, safety management systems, business continuation planning, emergency preparedness, and quality management systems.
Lawrence's experience includes over 16 years in safety and technical training in the semiconductor manufacturing industry and 14 years Naval Aviation experience in aircraft maintenance, electronics technology, safety, and quality assurance. His military contributions resulted in several awards, including the Navy Achievement Medal, and numerous awards from the Navy League of the United States for his volunteer work as a Commanding Officer with the U.S. Naval Sea Cadet Corps. Lawrence's volunteer work also includes 10 years as a CPR & First Aid Instructor Trainer for the American Red Cross.
Lawrence is certified in Safety &Health Systems for Small Business, Instructional Design, and as a Performance Based Equipment Trainer (PBET).
HRCI Credits
This program has been approved for 1.5 re-certification credit hours for HRCI's PHR and SPHR designations through the HR Certification Institute. For more information about certification or re-certification, please visit the HR Certification Institute website at www.hrci.org. The use of this seal is not an endorsement by HRCI of the quality of the program. It means that this program has met HRCIs criteria to be pre-approved for re-certification credit.
SHRM Professional Development Credits
This program is valid for 1.5 Professional Development Credits (PDCs) for the SHRM-CP or SHRM-SCP designations. For more information about certification or re-certification, please visit www.shrmcertification.org.