Description: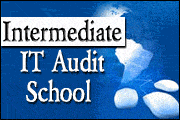 From the EU Data Protection Act to Sarbanes-Oxley, recent regulations require organizations to ensure appropriate levels of protection for their critical information assets.

In this practical, four day seminar you will immerse yourself in a blended risk- and compliance-based approach to IT auditing that will ensure the confidentiality, integrity, and availability of your information assets throughout the enterprise.

Learning Objectives:
How to apply COBIT® and ISO-27002 as an overall framework for your IT audits
Identify authoritative sources for audit program requirements associated with major US and international government and industry legislation, standards, and frameworks, including SOX, HIPAA, GLBA, FFIEC, GAO/FISMA, PCI DSS, ITIL, OWASP
Determine risk and compliance levels in such critical management and technical areas of the IT environment as governance, information security, operating systems, database management systems, network infrastructure security, application software design and change controls, physical security, and business continuity planning
Each topic will be accompanied by summary checklists of key audit procedures and audit points, representing IT controls best practices. (Note: This seminar covers topics found in all chapters of the CISA Review Manual.)
Agenda
1. Risk Assessment And Audit Planning
IT Threats, Risks And Exposures

Risk Definition

IT Risk Assessment

IT Infrastructure Risks

Information Classification

Building The IT Audit Universe

Establishing Risk Criteria

IT Risk Assessment Resources
2. Compliance Management: Regulations, Standards And Frameworks
Regulatory Compliance Challenges

Us And International Regulatory Laws And Standards

Identifying And Leveraging IT, IT Audit And Security Frameworks

Using COBIT®, ISO 27002, ITIL, GAO/FISMA, And Other Standards As A Foundation For Your IT Audit Framework

Integrating Compliance Requirements Into The Audit Plan
3. IT Governance
Defining IT Governance

IT Governance Risks And Responsibilities

IT Governance Components

Information Security Governance

Separation Of Duties

Audit Procedures
4. User Access Controls
Common Access Control Issues

Social Media And Social Engineering

User Access Controls

User Identification And Authentication

Authorization

Log Management

Privileged Access Monitoring

Distributed Web Applications

Mobile Computing

User Access Audit Procedures
5. Encryption Demystified
Encryption Concepts And Key Management

Symmetric Key Encryption

Asymmetric Key Encryption

Digital Signatures

Public Key Infrastructure (PKI)

Certificate Authorities (CAS)

Encryption Key Management Audit Steps
6. Network Perimeter Security
Network Terminology And Risk Analysis

OSI Network Protocol Model

Threat And Vulnerability Management

Firewalls

Intrusion Detection Systems (IDS/IPS)

Virtual Private Networks (VPNS)

Wireless

Cloud Computing

Audit Procedures
7. Operating System Software
Types Of System Software
Virtualization And Hypervisors

Patch Management

Privileged Administrative Access

Vulnerability Assessments (Health Checks)

Log Management

Audit Procedures
8. Database Management Systems (DBMS)
Database Management System Concepts

Database Terminology

Relational Databases

Structured Query Language (SQL)

DBMS Risks And Controls

Audit Procedures
9. System Development And Change Management
System Development Business Risks

Audit's Primary Objectives On Systems Development Projects

Systems Development Methodologies

Assessing Project Management

Audit As A Value Added Service

Configuration And Change Management

Web Application Development Risks And Controls

End User Computing Risks And Controls

Audit Procedures
10. Business Continuity And Disaster Recovery Planning
Disaster Recovery Planning (DRP)

Business Continuity Planning (BCP)

Business Impact Analysis (BIA)

Recovery Point Objectives (RPO)

Recovery Time Objectives (RTO)

Application Recovery Priority

Continuity Plans And Procedures

Audit Procedures
11. Auditing Outsourced IT Operations
Outsourcing Risks

Ensuring Strong Contractual Agreements

Right To Audit

SSAE-16, SOC1, SOC2, SOC3 Reports

Relationship Monitoring

Audit Focus Areas
12. Executing IT Audits
IT Audit Planning

Testing IT Controls

Integrated Auditing

IT Audit Resources
Bonus:
You will receive the Standard Edition of the MIS Swiss Army Knife Reference listing hundreds of valuable information security and IT audit resources.

Prerequisite: IT Auditing and Controls, IT Audit School, or equivalent experience. Familiarity with basic IT controls terminology and concepts is assumed.

Learning Level: Intermediate

Dates & Times
Classes start on the date(s) posted herein, and run from 8:30am to 5pm daily, except for the last day of class, which ends at 3pm.
About The Provider:
Founded in 1978, and with offices in the USA, UK, and Asia, MIS Training Institute - aka MISTI - is the international leader in audit and information security training.

Helping audit and infosecurity professionals stay at the top of their game has always been at the core of MISTI's mission. To that end, MISTI has developed and focused its seminars, conferences, and symposia on the wide-ranging needs of auditors and information security practitioners who are charged with controlling complex systems and business environments.

All MISTI training classes are led by industry experts. MISTI training classes are delivered by professionals who have been in the field and practice what they teach. Additionally, MISTI training's unparalleled course curriculum covers the most up-to-the-minute topics, provides proven audit and security practices, and delivers the information needed to be successful in today's organizations.

MIS Training Institute is registered with the National Association of State Boards of Accountancy (NASBA) as a sponsor of continuing education on the National Registry of CPE Sponsors. NASBA Sponsor Number: 103321

Cancellation/Refund Policy: MIS Training Institute

A full refund less a $100 administrative fee will be given for cancellations received 15 days or more before the event. Tuition is non-refundable for cancellations made 14 days or less before the event. You may, however, transfer your tuition to another MIS Training Institute event, less a $195 administrative fee. Transfers are valid for 12 months from the time of initial cancellation. Substitutions are welcome at any time.

Those who do not cancel before the MISTI event date and who do not attend are responsible for the full non-refundable, non-transferable tuition.