Description: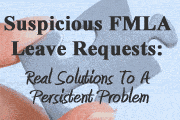 When the Family and Medical Leave Act was passed into law in 1993, our lawmakers unfortunately did not anticipate the unintended consequences of the intermittent component of the FMLA whereby employees can take a day here or a day there instead of taking their leave consecutively.

This one rule, though helpful and used properly by many, has definitely been abused by certain employees.

But what can HR do? Well, a lot.

Even though the FMLA regulations are complex, confusing, and present loopholes that are easy to exploit, companies should not be reluctant to deny leave or terminate troublesome employees for fear of being sued.

This training session will help you identify exactly what you can do – and how to take decisive action in even the most delicate situations. By attending, you will learn from a seasoned HR veteran with more than 25 years of experience in how to manage employees—and how to investigate an employee who is gaming the system.

Learning Objectives

By the end of this session, you will be able to:
Recognize the most common abuses of FMLA and why it's happening

Identify employer obligations under the Family and Medical Leave Act so you can investigate without stepping on legal land mines

Identify the regulatory changes to the FMLA that give leverage to employers to curb leave abuse

Create organizational policies to effectively manage FMLA leave—and effectively deny leave to employees who fail to follow leave policies

Identify patterns, trends, and leave abuse history

Assemble the right investigative team to conduct an internal investigation

Learn the basic steps in how to approach an internal investigation to obtain the necessary evidence of fraud

Recognize the risks in only obtaining testimonial evidence or "Facebook postings" to support a FMLA abuse case

Evaluate investigative findings and prepare a report that is court-ready
About Your Speaker
Natalie Ivey is President and CEO of Results Performance Consulting, Inc., a firm specializing in leadership and employee development training and continuing education programs for the HR profession.
Ms. Ivey is an author and a national public speaker with more than two decades of leadership and HR management experience with Fortune 500 organizations. She is a member of the Society for Human Resource Management and holds the Senior Professional in Human Resources certification (SPHR). Ms. Ivey is a nationally-known speaker on a variety of topics within the HR profession and is known for her "tell-it-like-it-is", direct approach to teaching HR education.
Ms. Ivey routinely works with individuals, small businesses, and larger corporations to address destructive leadership behaviors and organizational dysfunction. She designs customized training programs to help employers correct poor behaviors, minimize legal exposure, and improve performance and profitability.
HRCI Credits
This program has been approved for 1.5 re-certification credit hours for HRCI's PHR and SPHR designations through the HR Certification Institute. For more information about certification or re-certification, please visit the HR Certification Institute website at www.hrci.org. The use of this seal is not an endorsement by HRCI of the quality of the program. It means that this program has met HRCIs criteria to be pre-approved for re-certification credit.
SHRM Professional Development Credits
This program is valid for 1.5 Professional Development Credits (PDCs) for the SHRM-CP or SHRM-SCP designations. For more information about certification or re-certification, please visit www.shrmcertification.org.
About The Provider:
The Industry Calendar creates and sells webinars, audio conferences, and seminars for busy business professionals.

For over ten years we've done the work of listing the important, don't-miss events in one convenient location so you can quickly and easily learn about key training topics that keep you up-to-date on trends and best practices, all while helping to keep you in compliance with the various rules and regulations affecting your organization.