Description: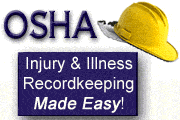 New Rules Released

There are changes to the OSHA Injury Recordkeeping Standard - some effective in 2016, others in 2017 - that will have a major impact on most employers. These changes include the requirement to send your injury data electronically to OSHA.

This audio conference covers both the new changes as well as the standard recordkeeping requirements such as what needs to be recorded and what forms and deadlines are imposed.

This training session is particularly important in light of OSHA's new requirements to electronically submit your injury data to OSHA every year.

Learning Objectives

This session will help you understand not only what information you must track, but what you must send to OSHA and when. By attending, you will learn:
What needs to be recorded – and what forms to use

Requirements of the new electronic reporting of injury data

Phase-in dates for the new requirement

The rules regarding location, retention, and maintenance of records

How to identify work-related incidents & the general reporting criteria

A simple process to determine when an injury needs to be documented

Pre-existing conditions and how they might impact recordkeeping

The latest recordkeeping interpretations from OSHA

How to avoid the #1 OSHA recordkeeping violation

Definitions of first aid, medical treatment, and work relationship

Which OSHA forms must be made available to employees

Dealing with injuries of independent contractors & temporary workers

Understanding the difference between "reporting" an injury and "recording" an injury
OSHA imposes a broad range of recordkeeping requirements, from forms to notifications and more. And though you may thoroughly comply with OSHA standards, if you are not in full compliance with its recordkeeping regulations, your company can still end up paying thousands of dollars in fines. So don't pay costly fines, attend this training session to be certain of your requirements.

About Your Presenter

Michael Lawrence is principal of Summit Safety Technologies. He is an accomplished safety manager, technical trainer, and instructional designer, and has been training safety professionals for over 30 years. Over this time, Lawrence has developed an ability to take complex government regulations and break them down into easy-to-understand training sessions.

Lawrence is a frequent speaker and is recognized for his expert knowledge of safety regulations and his ability to help others quickly understand these regulations and their impact on employers. He is certified in Safety & Health Systems for Small Business, Instructional Design, and as a Performance Based Equipment Trainer (PBET).
HRCI Credits
This program has been approved for 1.5 re-certification credit hours for HRCI's PHR and SPHR designations through the HR Certification Institute. For more information about certification or re-certification, please visit the HR Certification Institute website at www.hrci.org. The use of this seal is not an endorsement by HRCI of the quality of the program. It means that this program has met HRCIs criteria to be pre-approved for re-certification credit.
SHRM Professional Development Credits
This program is valid for 1.5 Professional Development Credits (PDCs) for the SHRM-CP or SHRM-SCP designations. For more information about certification or re-certification, please visit www.shrmcertification.org.
About The Provider:
The Industry Calendar creates and sells webinars, audio conferences, and seminars for busy business professionals.

For over ten years we've done the work of listing the important, don't-miss events in one convenient location so you can quickly and easily learn about key training topics that keep you up-to-date on trends and best practices, all while helping to keep you in compliance with the various rules and regulations affecting your organization.