Description: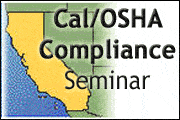 Whether you have one employee or hundreds ... as their employer, you are responsible for their safety.
Maintaining a safe workplace environment is more than just good business practice — it's the law.
Attend this powerful one-day seminar, and discover how to make sure your workplace is safe, secure, and Cal/OSHA compliant.
Learning Objectives:
The latest changes in Cal/OSHA rules and regulations — how will they affect your organization?
Making sense of Cal/OSHA's confusing language and government "legalese"
How to assess your organization for potential hazards and act now to eliminate them
Your written safety plan — what it is, how to create it, and where to find online forms and guidelines to help
Could your organization pass a Cal/OSHA inspection tomorrow? Here's how to find out
How to maintain meticulous records that meet Cal/OSHA standards
Workplace violence — how to spot red flags and keep workers and visitors safe from threats
In just one day of intensive, fast-paced training, we'll cover all of the latest regulatory information concerning safety, health, and environmental issues in the workplace.
You'll discover dozens of cost-effective ways for getting your organization into compliance, learn how to expand the effectiveness of your safety training program, find out how to keep the meticulous records required by Cal/OSHA, and learn how to assess your organization for a variety of hazards.
We'll also show you where to turn for up-to-the-minute information on Cal/OSHA's newest rules and regulations, so that you can keep abreast of changes that might affect your work environment. This seminar will set your mind at ease and make sure that when Cal/OSHA knocks on your door, you'll be ready!
Sign up for this seminar now — and avoid costly Cal/OSHA slip-ups in the future!
---
AGENDA
---
A Cal/OSHA Primer — Rules, Regulations, the Newest Updates and Information
Cal/OSHA's citation system — what it is and how it works
Compliance Directives — the #1 insight into what Cal/OSHA inspectors really think a regulation means
Resources to help you keep up with Cal/OSHA's newest standards, rules, and regulations
Consultation Service — should you use it? We'll tell you the pros and cons
How to find your way around www.osha.gov, www.dol.gov, and janweb.icdi.wvu.edu to quickly get the information you need
Better Safe Than Sorry — Preventative Measures for Employee Safety
What are recognized hazards? Learn to spot and correct them before your people get injured
HAZCOM — workers have a right to know about hazardous chemicals in their workplace. We'll tell you how to tell them what they need to know
Your written safety plan — what it should include to meet Cal/OSHA standards
The Needlestick Act — what it is and how it affects you and your employees
What you must know about the tagout/lockout standard
When Cal/OSHA Knocks — Preparing Your Organization for a Cal/OSHA visit
Is your business a likely candidate for an Cal/OSHA inspection? Find out who gets inspected most frequently — and why
What is the Cal/OSHA inspector looking for during a visit? We'll clue you in on the trouble spots guaranteed to be closely examined
How to conduct your own Cal/OSHA inspection — catch and correct problems before they become big headaches!
From opening conference to penalty appeals, we'll walk you through a Cal/OSHA inspection so you know what to expect and how to prepare
Record Keeping, Cal/OSHA, and You — Keeping Your Records in Line with Cal/OSHA's Rigorous Requirements
Who has to keep records? Who's exempt? We'll get you up to date on recent developments that may affect you
Log 300, Form 300A, and Form 301 — the newest additions to Cal/OSHA's record-keeping arsenal
How to stay in Cal/OSHA compliance while reporting and recording on-the-job mishaps, injuries, incidents, and catastrophes
Don't wait; Order today!
About The Provider:
Fred Pryor Seminars and CareerTrack, divisions of PARK University Enterprises, Inc., create one of the most respected international providers of professional seminars.

Since pioneering the one-day seminar in 1970 as Fred Pryor Seminars, our organization has built a reputation for high-quality, convenient, and practical business-skills training around the world, in every industry and sector.

Today, with more than 8 million satisfied customers, we continue to pride ourselves in providing the superior training you've come to expect from Fred Pryor Seminars and CareerTrack. Our cutting-edge research and course development are designed to meet the adult learning needs of your employees and your organization.

Fred Pryor Seminars and CareerTrack are your number one choices for training because we offer:
In-depth experience in the training industry

Consistent and comprehensive course offerings

High-energy and content-rich presentations

Multiple training tools, including on-site training, on-line learning, seminars, and A/V products

100% Satisfaction Guaranteed!
About Our Fred Pryor Training Seminars And Webinars
About Our Fred Pryor Communication Seminars

Our Fred Pryor seminars are presented in several cities and on various dates for your convenience in cities large and small. For instance, we offer Fred Pryor seminars in Houston, TX, Phoenix, AZ, Rochester, NY, and more on topics such as 'Dealing With Difficult People', 'How To Supervise People', and 'Leadership And Management Skills'.

About Our Fred Pryor Accounting Seminars

We offer several Fred Pryor accounting seminars, including Fred Pryor's Excel, Quickbooks, Microsoft, and other accounting topics. View the list of titles below for more information on our Fred Pryor accounting seminars.

Feel free to contact us if you have questions or need more information about any of our human resources training programs.