Our Safety Training Seminars
Creating a safe work environment is a top priority for every organization. A "safety first" mindset does much more than protect workers - it also helps to achieve compliance with increasingly stringent health and safety regulations.
Ongoing training is essential for ensuring your employees understand the role they play in contributing to a safer, healthier workplace. In many cases, training is also mandatory for maintaining OSHA compliance and avoiding costly fines and penalties. Choosing a reliable, reputable safety training program provider is a crucial decision for any organization. Meet your safety training needs with one of our seminars!
Featured Safety Seminars
Below is our featured list of safety seminars. This page lists safety seminars that are held all across North America, covering a wide variety of safety seminar topics!
Please note that many of the safety seminars listed are held in multiple cities and dates. To see all dates and locations for an event, click the course title below; to see only those events in your area, use the search box at the bottom of this page.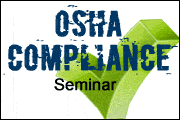 OSHA Compliance Seminar
10/11/2023 - 11/28/2023
Sign Up For This Seminar Now And Avoid Costly OSHA Slip-Ups In The Future!
Attend this powerful one-day seminar and discover how to make sure your workplace is safe, secure, and OSHA compliant.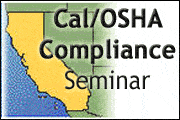 Cal/OSHA Compliance Training
10/3/2023 - 11/28/2023
Whether you have one employee or hundreds ... as their employer, you are responsible for their safety.
Attend this powerful one-day seminar, and discover how to make sure your workplace is safe, secure, and Cal/OSHA compliant.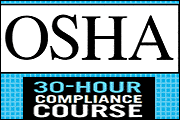 OSHA 30-Hour Training Compliance Course
10/2/2023 - 1/22/2024
Is Not Being In Compliance With OSHA Regulations Costing Your Organization?
This training will give you the practical, hands-on experience you need to pinpoint hidden or overlooked safety and health issues, address them, and become fully compliant with OSHA's general industry standards.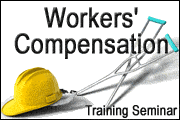 Workers' Comp Training Seminar
10/5/2023 - 1/31/2024
Learn Workers Compensation Law And Your Compliance Requirements
You might be very surprised about how much money you could save with proper knowledge of workers' compensation compliance requirements. In this information-packed seminar, you'll discover a wealth of strategies, insider tips, tools, and more to help you manage your entire workers' compensation plan more effectively.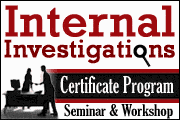 Internal Investigations Certificate Program
10/11/2023 - 12/9/2024
This course is available in both in-person and video conference formats.
Simply select your desired date below for practical tools, tips, and techniques on how to conduct a successful workplace or internal investigation.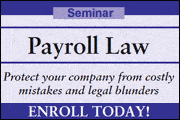 Payroll Law Seminar
10/5/2023 - 2/2/2024
A Day That Brings Clarity To Your Payroll Gray Areas!
The first time you're hit with a violation on payroll, you'll recognize just how crucial it is to understand all payroll regulations for your business. Don't let it happen to you. Learn all the ins, outs, and pitfalls of payroll with one of our payroll law seminars. Armed with the strategies you'll gain at this seminar, you'll handle payroll accurately, legally, and with complete confidence!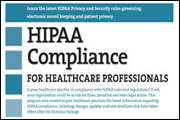 HIPAA Compliance For Healthcare Professionals
Learn The Latest HIPAA Privacy And Security Rules Governing Electronic Recordkeeping And Patient Privacy
Learn the latest HIPAA Privacy and Security rules governing electronic record keeping and patient privacy
Related Training:
About Our Safety Training Seminars
Benefits of Attending OSHA Seminars
Workplace safety training seminars involve a gathering of employees from multiple organizations who experience similar health and safety issues and challenges. The advantages of the seminar format include:
Hands-On Learning Experience:
We provide practical OSHA safety training solutions you can easily apply to your work environments. Attendees will discover ways to implement safer work practices without impacting their productivity and job performance.
Expert Instruction:
Our seminars feature personalized guidance from subject matter experts who bring an abundance of real-world experience to the training process. They provide valuable advice on how to implement safety procedures efficiently and with minimal disruptions to the normal workflow.
Interaction:
In-person safety training seminars offer ample opportunities to interact with the instructor and other attendees. The ability to ask questions and share experiences and challenges with others provides additional insight that enhances the learning experience.
Motivation:
The seminar format fosters a spirit of camaraderie that inspires attendees to make improvements. They typically bring this positive mindset back to their workplaces, which sharpens their focus on health and safety.
Networking:
Attending seminars is an excellent way to "rub shoulders" with your peers from other organizations within your industry. This networking can lead to exciting career opportunities in the future.
Our OSHA Seminar Offerings
Our seminars cover everything from office safety training to handling hazardous materials and much more. Examples of available programs include:
OSHA Compliance Training Seminar:
This informative one-day event provides valuable guidance for establishing and maintaining a safe, secure and compliant work environment. You'll learn about the latest changes in OSHA rules and regulations and how they affect your organization's work environment. You'll also discover how to identify, address and eliminate hazards that could cause severe accidents and illnesses. Another crucial seminar topic entails spotting red flags that may indicate a workplace violence threat.
OSHA 30-Hour Compliance Course:
This five-day seminar offers the most comprehensive OSHA training experience. You'll explore the steps involved in hazard identification, prevention and mitigation and gain a better understanding of the complex OSHA requirements and standards. Specific topic examples include the importance of workplace safety and health programs, record keeping and reporting, first aid, best practices for material handling and storage, and working with hazardous substances.
We offer many of our OSHA seminars on multiple dates at various locations throughout North America. If you miss one event, it's often possible to attend it later.
Complete Your OSHA Training Online
If you can't find a seminar near you that fits your schedule or would prefer a different format, we offer alternative ways to participate in OSHA safety training. By leveraging the power of the internet, you can get up to date on the latest OSHA developments from the comfort of your office or home. Choose from several convenient, user-friendly online formats:
Webinars:
Webinars combine audio and video in an interactive online format that offers a virtual version of the safety training seminar. You'll learn from knowledgeable instructors and be able to interact with the instructor and other attendees via the chat function. Our webinars cover a wide range of topics that will help you meet your unique training and compliance requirements.
Audio Conferences:
This format offers an excellent learning platform for individuals who achieve the best results by listening. You can join the event via your computer or mobile device. Examples of the OSHA-related topics that are available via audio conferencing include the safety and health responsibilities of the HR professional, rules for hiring contract employees and the steps for conducting a mock OSHA audit.
We offer online OSHA training as live, interactive events that you can attend from any remote location. Just log in at the scheduled time and you'll be able to access the program — no need to download software or purchase additional computer equipment. If you're unable to attend a live event, you can still enjoy the learning benefits. We record all our programs and make them available on-demand, enabling you to watch or listen to them whenever you have time.
Your One-Stop Resource For Health And Safety Training
At The Industry Calendar, we understand the challenges many organizations face when attempting to meet their training requirements. We provide a wide variety of health and safety training seminars that will remove the burden from your shoulders. Our programs offer a convenient, cost-effective solution for keeping your workplace safe and compliant.
Why Choose The Industry Calendar?
The Industry Calendar brings more than 10 years of experience to the development of safety training seminars and other valuable learning resources. In addition to health and safety, we offer educational programs for workers' compensation, payroll, human resources and accounting for businesses and organizations in a variety of industries.
Our team of in-house experts creates most of our training products, while others come from our extensive network of affiliates. They all feature high-quality, relevant materials that will help you meet educational, compliance, certification and career development requirements.
Enroll In A Health And Safety Training Course Today
Review our selection of OSHA seminars and other training resources and place your order today. Our money-back guarantee allows you to make your purchase with complete confidence. If you're not satisfied with any of our programs, let us know and we'll issue a full refund.
If you have any questions, feel free to give us a call at 770-410-1219 or contact us online.
Search for Seminars, Webinars, or Online Courses
Why Use The Industry Calendar's Safety Seminar Calendar?
The Industry Calendar's Seminar Calendar lists the leading safety seminars in order to save you the time and effort of having to do the research yourself.
Many times, we'll even list safety seminars you never even knew existed or were available in your city!
And once you find your desired safety seminar, simply order it - either by invoice or credit card - right online through the Industry Calendar!
So stop surfing the Internet every time you're looking for some training, and come to the Industry Calendar for all of your safety seminar needs!