Workers' Compensation Webinars
Workers' compensation is one of the more challenging areas for human resources and management professionals. While WC insurance covers many of the injuries and illnesses that occur in the workplace, there is also the potential for fraudulent claims that lead to higher costs.
Ongoing training is essential to keep up with the latest developments in this continually changing area. The Industry Calendar offers a variety of informative workers' compensation webinars that provide a convenient, cost-effective training solution for busy professionals like you.
Featured Workers' Comp Webinars
Listed below are our featured workers' comp webinars and audio conferences. Each of our workers' comp webinars and audio conferences are available in live and recorded versions, and are a great way to get up to speed on critical issues - without leaving your office! You also earn 1.5 SHRM and HRCI Re-Certification credits! To see more details or to order a specific workers' comp webinars and audio conferences, simply click the title.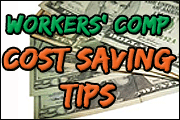 Workers' Comp 101: The Whats, Whens, And Whys
Recorded
This 90 minute training session will provide you and/or your team with a better understanding of how workers' comp works, plus how you can directly impact claim outcomes and costs.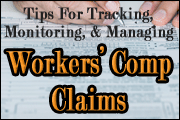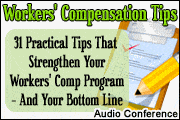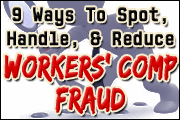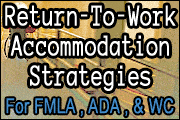 Return-To-Work Strategies
Recorded
Learn how to have an organized, simple, and documented assessment process to accommodate returning employees to work who have not fully recovered from occupational injuries.
Related Training:
About Our Workers' Compensation Webinars
Covered Topics For Our Workers' Comp Webinars
At The Industry Calendar, we strive to provide training programs on the topics that matter most to our students. Examples of our course offerings include:
Workers' Comp 101:
The Whats, Whens And Whys:
This workers' comp 101 webinar covers all the basics, such as how the process works, the proper steps for handling claims, and strategies to help you manage and control the program more efficiently.
Workers' Comp Cost Saving Tips:
Discover how to keep a small workers' comp claim from growing into a significant expense for your organization. Get valuable claim handling tips that save time, money and hassles, as well as best practices for integrating a team approach to the process.
Ways To Spot, Handle, And Reduce Workers Comp Fraud:
Knowing the common signs of a fraudulent claim can make the difference between a denied claim and an unnecessary six figure settlement, and though we want to be trustful, fraud and misrepresentation become more prevalent everyday - and knowing what to look for is your best defense.
Return-To-Work Strategies:
This workers' compensation law webinar shows you how to develop a sound strategy for getting employees back to work as quickly as possible after an illness or injury. Learn how to integrate ADA accommodations with the injuries and any restrictions workers may face when returning to the workplace.
If you can't attend any of our live events, you don't have to miss out on the training. We record all our sessions and make them available on-demand for 24/7 access.
Benefits Of Our Workers Comp Webinars
Webinars enable multiple individuals to engage in online workers' compensation training from the comfort of an office or any location with internet access. Advantages of the format include:
No Need To Travel:
Attending seminars at off-site locations typically results in significant transportation, lodging and food costs. Webinars require no travel - the only expense is the purchase of the program.
Expert Presenters:
Our workers' comp webinars feature knowledgeable speakers who use video and audio to make a compelling presentation on a relevant topic.
Interactive:
Webinars enable you to get the most out of the presentation by interacting with the speaker and other attendees via audio or online chat. You're free to ask questions, make comments and engage in virtual conversations.
Easy Accessibility:
Webinars provide maximum convenience. Just register for the event and log in at the scheduled time. You won't have to invest in additional computer equipment or software.
Sign Up For Workers' Comp Training Today
For more than 10 years, The Industry Calendar has been providing informative training resources for professionals in a wide range of industries. We have the right program to help you meet your educational, compliance and certification requirements. Browse our current selection of workers' comp webinars and order a program today. Feel free to contact us if you have questions or would like more information.
Search for Seminars, Webinars, or Online Courses
Why Attend The Industry Calendar's Workers' Comp Audio Training Courses?
The Industry Calendar offers a wide variety of workers' comp audio conferences for all of your workers' comp professional needs.
Each of our workers' comp audio conferences is a 90-minute presentation that focuses on a specific workers' comp function - from recruiting to hiring to administering your compliance responsibilities, and everything in between - that helps you do your job more effectively.
Our workers' comp audio conferences are a fast, convenient, inexpensive, and guaranteed way to train one or more people. And best yet, our workers' comp audio conferences are available in live or recorded versions!
Workers' Comp Audio Conferences, Workers' Comp Webcasts, Workers' Comp Teleseminars, Workers' Comp Audio Training, and Workers' Comp Webinars can be used interchangeably and mean an workers' comp event that you attend via the phone and/or computer at your home or office.
More / Benefits of Audio Training