Our Health And Safety Webinars
Are you looking for convenient OSHA-compliant health and safety training solutions? If spending a few days out of your office or facility to attend an in-person seminar isn't a viable option, online safety webinars from The Industry Calendar can provide a practical and cost-effective alternative. You'll be able to complete your training without ever setting foot outside your workplace.
Featured Safety Webinars
Listed below are our featured safety webinars and audio conferences. Each of our safety webinars and audio conferences are available in live and recorded versions, and are a great way to get up to speed on critical issues - without leaving your office! You also can earn up to 1.5 SHRM and HRCI Re-Certification credits! To see more details or to order a specific safety webinars and audio conferences, simply click the title.
OSHA Responsibilities Of The HR Professional
Recorded
This webinar goes over the long-standing OSHA requirements, the most recent OSHA regulatory changes, and the most frequently cited violations for FY17 (in other words, the areas where most problems occur so you can fix them before they happen at your organization!).
OSHA Rules For Hiring Contract Employees
Recorded
This webinar provides insight on how to protect your employer from OSHA regulation as well as to develop an understanding on OSHA's stance for contract and temporary workers.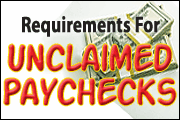 Requirements For Unclaimed Paychecks
Recorded
Amazingly, departing employees don't always collect all wages owed to them. Unfortunately, as a payroll professional, that becomes your problem — especially since fewer than 1 in 5 businesses comply with laws for reporting and submitting unclaimed payroll check and other property.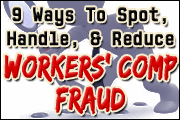 9 Ways To Spot, Handle, and Reduce Workers' Comp Fraud
Recorded
Sometimes the tell-tale signs of a fraudulent claim are apparent right away; other times they don't develop until the claim is already in progress, but either way, you need to know what to do to protect your organization.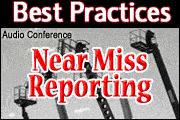 Best Practices For Near Miss Reporting
This session focuses on how to develop, implement, and maintain a Near Miss reporting system. It teaches you what to collect, how to effectively and efficiently collect it, and what to do with the information after it has been collected.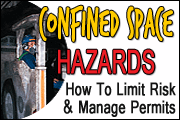 Confined Spaces Hazards: How To Limit Your Risks And Manage Permits
Recorded
Join us for this informative audio conference which will focus on not only the technical aspects of confined spaces, but on the very important Entry Supervisor responsibilities, including completing the permit process correctly, ensuring proper training for Attendants, and how to be prepared for rescue operations.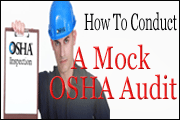 How To Conduct A Mock OSHA Audit
Don't wait until someone gets hurt or OSHA fines you to get serious about evaluating the hazards in your work practices and in your workplace! Attend this webinar to learn the efficient and time-tested way to conduct a mock audit of your facility.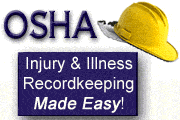 OSHA Recordkeeping 101
Recorded
This training session is particularly important in light of OSHA's new National Emphasis Program on Injury and Illness Recordkeeping and will provide participants with the tools, skills, and knowledge to make the correct recordkeeping and reporting decisions.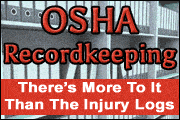 Related Training:
About Our Health And Safety Webinars
Our Wide Selection of OSHA Safety Webinars
At The Industry Calendar, we strive to deliver a wide variety of the most informative and relevant training resources to busy professionals like you. Our collection of workplace safety webinars encompasses many topics that apply to today's work environments, such as:
OSHA Responsibilities Of The HR Professionals:
In many organizations, the human resources department oversees the health and safety management function. We've designed this webinar to guide HR professionals in their quest to achieve OSHA compliance. Subject areas include injury reporting requirements, record keeping rules, the most common OSHA violations, and management techniques for contract employees.
OSHA Rules For Hiring Contract Employees:
Does your organization rely on the services of contract or temporary employees to meet your staffing needs? This seminar gives you a better understanding of the unique OSHA requirements that apply to these workers. Topics include how to reduce your risk exposure, common citations involving the use of contract employees, and the NLRB's current position on this segment of the workforce.
How To Conduct A Mock OSHA Audit:
Performing a mock OSHA audit can prepare your organization for the real thing and help you avoid costly non-compliance fines and penalties. This webinar guides you through the entire process.
If you're unable to attend a live webinar event, you can still view the presentation. We record all our webinars and make them available on-demand, allowing you to watch them whenever your schedule allows.
Benefits Of Workplace Safety Training Webinars
Webinars are online meetings that allow small or large groups to join from anywhere with internet access. Participants can see and hear the presentation, much like when attending an in-person seminar. Benefits of the webinar format include:
Eliminates expenses involved with traveling to off-site events (lodging, transportation, meals, etc.)
Provides opportunity to ask questions and interact with other attendees via audio or online chat
Grants access to subject matter experts who bring an abundance of knowledge and experience to the webinar
Allows participants to fulfill OSHA compliance requirements in some cases
Reduces lost productivity resulting from spending several days away from the workplace
Enables attendees to concentrate on the presentation in a comfortable, distraction-free environment
Eliminates geographical and logistical barriers that may prevent attending in-person seminars
Register For An Online Safety Webinar Today
The Industry Calendar offers more than 10 years of experience producing high-quality health and safety webinars and other valuable training resources. We have the right product to meet your educational, compliance and self-development needs. Browse our current selection of workplace safety webinars and place your order today. Contact us online if you have questions or would like more information.
Search for Seminars, Webinars, or Online Courses
Why Attend The Industry Calendar's Safety Audio Training Courses?
The Industry Calendar offers a wide variety of safety audio conferences for all of your safety professional needs.
Each of our safety audio conferences is a 90-minute presentation that focuses on a specific safety function - from recruiting to hiring to administering your compliance responsibilities, and everything in between - that helps you do your job more effectively.
Our safety audio conferences are a fast, convenient, inexpensive, and guaranteed way to train one or more people. And best yet, our safety audio conferences are available in live or recorded versions!
Safety Audio Conferences, Safety Webcasts, Safety Teleseminars, Safety Audio Training, and Safety Webinars can be used interchangeably and mean an safety event that you attend via the phone and/or computer at your home or office.
More / Benefits of Audio Training