Our Payroll Seminars
Are you a payroll, accounting, or HR professional with payroll management and administration responsibilities in your organization? Do you basically understand payroll basics, but have some difficulty keeping up with the constant changes in the payroll laws, regulations, and procedures?

Completing payroll training classes is essential for staying current and compliant and achieving your career goals and certification requirements. The Industry Calendar can help you meet your training needs with our informative, engaging payroll seminars. Get the latest information from subject matter experts that will enable you to perform your job more efficiently and accurately.
Featured Payroll Seminars
Below is our featured list of payroll seminars. This page lists payroll seminars that are held all across North America, covering a wide variety of payroll seminar topics!
Please note that many of the payroll seminars listed are held in multiple cities and dates. To see all dates and locations for an event, click the course title below; to see only those events in your area, use the search box at the bottom of this page.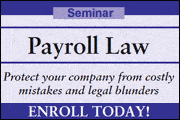 Payroll Law Seminar
Dates Range: 10/5/2023 - 2/2/2024
A Day That Brings Clarity To Your Payroll Gray Areas!
The first time you're hit with a violation on payroll, you'll recognize just how crucial it is to understand all payroll regulations for your business. Don't let it happen to you. Learn all the ins, outs, and pitfalls of payroll with one of our payroll law seminars. Armed with the strategies you'll gain at this seminar, you'll handle payroll accurately, legally, and with complete confidence!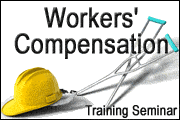 Workers' Comp Training Seminar
Dates Range: 10/5/2023 - 1/31/2024
Learn Workers Compensation Law And Your Compliance Requirements
You might be very surprised about how much money you could save with proper knowledge of workers' compensation compliance requirements. In this information-packed seminar, you'll discover a wealth of strategies, insider tips, tools, and more to help you manage your entire workers' compensation plan more effectively.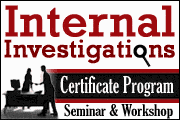 Internal Investigations Certificate Program
Dates Range: 10/11/2023 - 12/10/2024
This course is available in both in-person and video conference formats.
Simply select your desired date below for practical tools, tips, and techniques on how to conduct a successful workplace or internal investigation.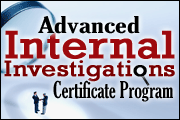 Advanced Internal Investigations Certificate Program
Dates Range: 11/29/2023 - 5/14/2024
The Advanced Internal Investigations Certificate Program is an advanced course on internal investigations. It goes beyond the basic what, why, and how of conducting an internal investigation and focuses primarily on advanced investigatory issues.
Related Training:
About Our Payroll Training Seminars
Our upcoming seminars include numerous events covering a wide variety of payroll topics, including:
Federal And State Payroll Seminars:
While the federal government has specific payroll requirements, each state also implements its unique set of rules and regulations. We offer individual seminars that cover payroll at the federal level as well as state-specific training programs.
Payroll Tax Seminars:
The area of payroll taxes often causes confusion and leads to compliance violations. We offer informative seminars that will bring you up to date on the latest taxation and reporting regulations. A specific focus area is the unique payroll tax requirements for organizations with employees that render services in non-resident states.
Payroll Deduction Law Seminars:
Are you aware of the latest law changes regarding the types of deductions that employers can take from workers' paychecks? These educational seminars offer a comprehensive review of the updates in the laws that indicate which deductions your organization can make with or without an employee's consent. Key areas include overpayments and employee loans and advances, as well as the legality of non-cash overpayments as they apply to uniforms, theft and cash drawer shortages.
Certified Payroll Seminars:
We offer payroll certification training for managers and administrators that will help you meet your SPHR and PHR recertification requirements. Enhance your knowledge and boost your skills in vital areas such as the proper classification of workers, the identification, payment and withholding of payroll taxes for employees, the application of exemptions, and the various payroll reporting requirements that impact your organization.
Waiving Payroll Penalties:
A federal or state agency may assess financial penalties for a variety of payroll-related infractions, such as late filings and errors on tax returns. In some cases, it's possible to have these penalties reduced or waived. The Industry Calendar is your source for valuable training programs that outline the steps in the process. Discover why agencies assess specific penalties as well as how to respond to a notice, submit a formal waiver request and make persuasive penalty removal arguments orally and in writing.
Paperless Record Keeping:
Are you contemplating or already in the process of moving from paper to paperless payroll record keeping in your organization? Implementing technology can increase efficiency and reduce paper consumption, but you'll likely experience multiple challenges during the transition phase. Our payroll seminars include presentations on how to ease the burden and maintain compliance while going paperless. Examples of topics include electronic filing and reporting methods, best practices for record retention, and audit handling and preparation.
Conducting A Payroll Audit:
Too many organizations find themselves unprepared for a federal or state payroll audit - and suffer the consequences. This program instructs you on how to conduct internal audits so you can detect and correct errors before they result in costly fines and penalties. Learn how to devise and implement an effective game plan from a former payroll tax auditor.
We offer many of these programs at multiple locations throughout North America. We also record all of them. If you're unable to attend the live events, you can access them on-demand and view them from the comfort of your office.
Advantages Of The Payroll Seminar Format
Attending in-person payroll classes provides an excellent opportunity to boost your knowledge on a specific topic in a compressed timeframe. Key benefits of seminars include:
Highly Interactive:
A seminar is a suitable format if you learn best through personal interactions. They're ideal for people who enjoy having "face time" with the presenter. In most cases, you'll have ample opportunities to ask questions and even engage in a one-on-one conversation after the presentation where you can pick the brain of an expert.
Knowledgeable Presenters:
Speaking of experts, all payroll seminars from The Industry Calendar feature presentations from accomplished individuals who have a mastery of the topic as well as extensive real-world experience. You'll have access to timely, relevant information you can apply to your job function.
Networking Opportunities:
Unlike online payroll training courses, in-person seminars allow you to meet your counterparts from other organizations. You'll get to exchange ideas and share experiences with your peers. You may even make some valuable contacts that can lead to exciting career opportunities in the future.
Break From The Routine:
Many seminar attendees find that getting out of the office for a couple of days is a refreshing and invigorating experience. The format offers a welcome break from the daily grind and often provides a new, fresh perspective when returning to work.
Motivational:
An engaging seminar presentation can provide a much-needed morale boost. The exposure to new ideas, interactions with the speaker and peers, and the stimulating environment can inspire attendees to make changes that boost their job performance and productivity.
Why Choose Payroll Seminars From The Industry Calendar?
The Industry Calendar is a leading provider of seminars, webinars, audio conferences and self-study training materials. For more than 10 years, we've been helping busy business professionals like you increase their knowledge, develop new skills and meet their certification and compliance needs. When you make us your one-stop education center, you'll have the most relevant, up-to-date resources at your fingertips.
Sign Up for a Payroll Seminar Today
Explore our current selection of payroll classes and register for an upcoming session. If you have questions or would like more information about any of our course offerings, feel free to contact us online or give us a call at 770-410-1219.
Search for Seminars, Webinars, or Online Courses
Why Use The Industry Calendar's Payroll Seminar Calendar?
The Industry Calendar's Seminar Calendar lists the leading payroll seminars in order to save you the time and effort of having to do the research yourself.
Many times, we'll even list payroll seminars you never even knew existed or were available in your city!
And once you find your desired payroll seminar, simply order it - either by invoice or credit card - right online through the Industry Calendar!
So stop surfing the Internet every time you're looking for some training, and come to the Industry Calendar for all of your payroll seminar needs!