Our Bank Training Seminars
The banking industry has undergone many changes in recent years - a trend that's likely to continue for the foreseeable future. Ongoing training is essential to stay up to date and compliant. The Industry Calendar can help with a wide variety of informative seminars that meet the needs of today's banking and mortgage professionals.
Featured Banking Seminars
Below is our featured list of banking seminars. This page lists banking seminars that are held all across North America, covering a wide variety of banking seminar topics!
Please note that many of the banking seminars listed are held in multiple cities and dates. To see all dates and locations for an event, click the course title below; to see only those events in your area, use the search box at the bottom of this page.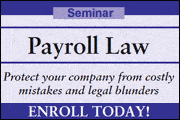 Payroll Law Seminar
6/2/2023 - 6/22/2023
A Day That Brings Clarity To Your Payroll Gray Areas!
The first time you're hit with a violation on payroll, you'll recognize just how crucial it is to understand all payroll regulations for your business. Don't let it happen to you. Learn all the ins, outs, and pitfalls of payroll with one of our payroll law seminars. Armed with the strategies you'll gain at this seminar, you'll handle payroll accurately, legally, and with complete confidence!
This training session is available in both in-person and video conference formats. Same great training; you simply decide which format best fits your needs!
Related Training:
About Our Bank Training Seminars
What Topics Do Our Banking and Mortgage Seminars Cover?
Our seminars give you the chance to boost your knowledge and skills in areas such as:
Auditing:
If you're an internal auditor, you'll learn best practices for conducting banking industry audits as they apply to personal and corporate lending, treasury instruments, trade finance and taking deposits.
Fraud Auditing:
Our comprehensive four-day fraud audit school will give you a thorough understanding of the types of frauds that are prevalent in today's banking industry. You'll also learn how to build fraud detection and prevention measures into your auditing plan.
Auditor-In-Charge:
This advanced bank audit seminar provides crucial knowledge for accountants who supervise the auditing process in their organization.
Exam Preparation:
Are you planning to take the Series 65 or Series 66 Investment Adviser Representative exam? Our live classroom prep courses will enhance your understanding of the challenging materials and increase your chances of passing the first time.
Benefits Of Banking And Mortgage Training Seminars
An in-person seminar provides access to a large amount of information on a specific topic over one or several days at an off-site location. The advantages of this format include:
Face-To-Face Interaction:
If you like meeting new people, seminars enable you to make contacts with peers that share similar interests and training requirements. You can also interact with the speaker by asking questions and engaging in enlightening conversations.
Knowledgeable Presenters:
Our banking seminars feature presentations by subject matter experts on topics that matter to your job function and organization. These individuals bring an abundance of real-world experiences to their presentations.
Networking:
The contacts you make at seminars could lead to exciting new opportunities in the future. You may meet someone who can help advance your career.
Inspiration:
The people you meet and the knowledge you gain at an in-person seminar can give you a new perspective on your job and how you can improve your performance. You may be inspired to make meaningful changes that benefit you and your organization.
Invigoration:
Is the day-to-day grind starting to wear on you? Attending a live seminar event can be like a breath of fresh air. You'll get a welcome break from the routine and have a chance to learn something new.
Enroll In A Banking Training Seminar Today!
At The Industry Calendar, we've been offering informative seminars and other training resources for more than 10 years. We understand the unique learning requirements of busy professionals like you, and we tailor all our programs to meet them. Review our current selection of banking seminars and register for an upcoming event today. Feel free to contact us if you have questions or need more information.
Search for Seminars, Webinars, or Online Courses
Why Use The Industry Calendar's Banking Seminar Calendar?
The Industry Calendar's Seminar Calendar lists the leading banking seminars in order to save you the time and effort of having to do the research yourself.
Many times, we'll even list banking seminars you never even knew existed or were available in your city!
And once you find your desired banking seminar, simply order it - either by invoice or credit card - right online through the Industry Calendar!
So stop surfing the Internet every time you're looking for some training, and come to the Industry Calendar for all of your banking seminar needs!