Our Workers' Compensation Seminars
Whether you're a new or experienced workers' comp professional - or a business owner or HR professional with workers comp responsibilities - this aspect of your job function may cause confusion and uncertainty. Workers' compensation is also an area where organizations overspend, usually because they don't have the necessary training.
The Industry Calendar can help you gain a better understanding of the complexities of workers' compensation insurance and your workers comp compliance responsibilities. We offer a great in-person seminar that covers the fundamentals of workers' comp in the workplace and much more. You'll get the training you need to eliminate waste and administer your program more efficiently.
Featured Workers' Comp Seminars
Below is our featured list of workers' comp seminars. This page lists workers' comp seminars that are held all across North America, covering a wide variety of workers' comp seminar topics!
Please note that many of the workers' comp seminars listed are held in multiple cities and dates. To see all dates and locations for an event, click the course title below; to see only those events in your area, use the search box at the bottom of this page.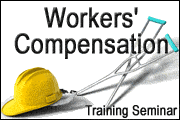 Workers' Comp Training Seminar
Learn Workers Compensation Law And Your Compliance Requirements
You might be very surprised about how much money you could save with proper knowledge of workers' compensation compliance requirements. In this information-packed seminar, you'll discover a wealth of strategies, insider tips, tools, and more to help you manage your entire workers' compensation plan more effectively.
This training session is available in both in-person and video conference formats. Same great training; you simply decide which format best fits your needs!
Related Training:
Our Workers' Compensation Seminars
What Does Workers' Compensation Training Cover?
Our seminars cover a host of relevant topics that impact organizations and workforces such as:
What To Know About Workers' Comp Benefits:
How comfortable are you in your knowledge of the types of illnesses and injuries that are eligible for workers' compensation benefits, and the process for calculating payments? Our training provides a better understanding of the various benefits (medical, disability, rehabilitation and death) as well as the wage calculation process used to determine payouts.
Law:
Do you have a difficult time keeping up with the changes in workers' comp laws? We offer seminars that can get you up to speed on legal issues by examining recent court cases and decisions. Gain insight into how to alleviate the confusion that can result when workers' comp, ADA and FMLA regulations overlap (known as the Bermuda Triangle of employment law).
Claims Adjusting:
We provide workers' compensation claims adjuster training that can help insurance professionals minimize costs for their employers, as well as the organizations they serve.
Premium Reduction Strategies:
Are your workers' comp insurance costs continuing to skyrocket? Our seminars can help you develop strategies that will increase workplace safety and reduce the number of claims your workforce files, which ultimately leads to lower premiums.
Fraud Detection:
Our seminars provide valuable insight that can help companies and claims adjusters spot the red flags that indicate WC fraud. They also offer tips on what to do if you suspect an employee is attempting to commit a fraudulent act, as well as when you can deny a claim or criminally prosecute a fraud perpetrator.
Common WC Administrator Issues:
Workers' comp administrators have a challenging job that requires understanding a variety of laws, regulations and issues. We offer workers' compensation training that covers all the areas the role encompasses and provides guidance for managing them more efficiently.
The Benefits Of Our Workers Comp Seminars
A seminar is an in-person gathering of individuals led by an expert who presents information on a specific topic. This learning method offers several benefits:
Energy:
Attending a gathering of your industry peers can be an invigorating experience. You'll feed off the energy in the room, which a skilled speaker will capitalize on and use to engage the attendees. If you're a people person, you'll get a lot out of this format.
Access To Experts:
Our seminars feature presentations by speakers who bring a wealth of knowledge and real-world experience to their topics. In most cases, you'll be able to tap into this expertise by asking questions and engaging in meaningful dialogue that will enhance your understanding.
Opportunities For Discussion:
Some seminar formats encourage face-to-face dialogue, similar to a conference environment. Any attendee can contribute to the debate, and everyone can learn something from the different experiences and perspectives.
Networking:
Seminars are the perfect venue for meeting others who work in your profession in a relaxed, informal setting. You'll be able to make contacts that could lead to new and exciting career advancement opportunities.
Escaping The Grind:
Seminars may take place over one or several days at an off-site location. They often provide a welcome respite for professionals who spend their days in an office environment. They allow attendees to boost their skills and knowledge and get away from the daily grind.
Meeting All Your Workers' Compensation Training Needs
The Industry Calendar has been providing high-quality training programs for more than a decade. In addition to workers' comp, we offer courses in human resources, payroll, health and safety, bank/mortgage, and accounting training. All our offerings are created in-house by our team of experts or come from our extensive network of affiliates. Either way, you'll find the right program to meet your unique educational, certification, compliance, or career advancement requirements.
Buy any of our workers' comp seminars or other training programs with complete confidence via our money-back guarantee. If you're not happy with a course, just let us know and we'll issue a full refund.
Enroll In A Workers' Comp Seminar Today
Review all our workers' comp training courses and place your order today. If you have questions or need assistance, feel free to contact us online or by phone at 770-410-1219.
Search for Seminars, Webinars, or Online Courses
Why Use The Industry Calendar's Workers' Comp Seminar Calendar?
The Industry Calendar's Seminar Calendar lists the leading workers' comp seminars in order to save you the time and effort of having to do the research yourself.
Many times, we'll even list workers' comp seminars you never even knew existed or were available in your city!
And once you find your desired workers' comp seminar, simply order it - either by invoice or credit card - right online through the Industry Calendar!
So stop surfing the Internet every time you're looking for some training, and come to the Industry Calendar for all of your workers' comp seminar needs!