Workers' Compensation Online Training Resources
Does your job function require a solid understanding of workers' compensation? If so, you know how challenging it can be to keep up with the ever-changing workers' compensation laws, rules, and regulations. Frequent training is necessary to stay current with the latest developments.
The Industry Calendar can serve as your one-stop workers' comp resource center. We offer a wide variety of training programs and materials you can access 24/7 via your internet-connected computer or mobile device. It's like having a personal WC library containing everything you need to stay up to date and compliant.
Featured Workers' Comp Online Courses
This page lists a variety of workers' comp training products and workers' comp certification courses.
Shown below are just a few of the hundreds of workers' comp training products; for a complete search, please use the search box at the bottom of this page!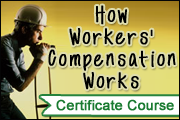 How Workers' Compensation Works
You will learn the basic concepts in workers' compensation including how a state's statutory legal structure fits into the bigger picture by understanding insurance policy coverage, premium calculations and coverage issues.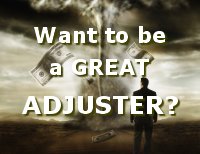 National ONLINE Property & Casualty Adjuster Training Course
This is the perfect program with which launch a productive and satisfying career as a insurance claims adjuster. Adjusters who secure their licenses, training, and continuing education through our online's online programming enjoy greater than a 98% pass rate in initial licensing, and have consistently proven to be far more successful in their adjusting careers than their peers. There really is no other choice!
About Our Workers' Compensation Online Training Resources
What Do Our Workers' Comp Resources Cover?
The Industry Calendar offers online workers' comp training on relevant topics such as:
The fundamentals of workers' comp - what it is, how it works, and the tasks involved with managing your organization's program
Tips for how you can reduce your claim costs and keep your premiums under control
The steps involved with conducting a workers' comp claim investigation, including how to detect signs of potential fraud
How to integrate ADA accommodations with WC injuries and restrictions
Processes for defending workers' comp claims filed by employees
How to understand the metrics for assessing the success of your WC program
Issues that may occur when WC claimants return to the job
Browse Our Workers' Comp Training Today
The Industry Calendar has been helping workers in organizations across a wide range of industries meet their training and compliance requirements for more than 10 years. Our programs come with a money-back guarantee for your peace of mind. If you're not satisfied with a course for any reason, please let us know and we'll issue a full refund (a 20% return fee may apply).
Feel free to review all our workers' compensation resources and place your order today. Contact us online or give us a call at 770-410-1219 if you have questions or need more information.
Search for Seminars, Webinars, or Online Courses
Why Use The Industry Calendar's Workers' Comp Product Finder?
This page lists workers' comp training products and workers' comp certification courses from a variety of vendors.
We've done the work of aggregating all of the products in one place so you can find, review, compare, and even order, all of your workers' comp training products.
You save time and energy, and we get the satisfaction of serving your needs and earning a sales commission for our efforts - the makings of a beautiful business relationship!
Please contact us any time you have an workers' comp training need!
Your Industry Calendar Team!