Description: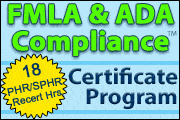 This training session is available in both in-person and video conference formats. Same great training; you simply decide which format best fits your needs!

Are You Up-To-Date On The Latest ADA And FMLA Rules And Requirements - Especially For COVID-19?

The requirements for compliance with FMLA and ADA laws have been updated. Have you?

Our comprehensive, three-day program on FMLA and ADA rules and administration guidelines includes 15 information-packed sessions that provide complete A-to-Z coverage of all aspects of the federally-required FMLA and ADA compliance and best practices - plus access to our heralded FMLA and ADA Training & Certification Programs!

Not only will you learn the practical strategies and procedural recommendations that will enable you to tackle the challenging FMLA and ADA issues you confront every day, you'll also get FREE updates whenever FMLA or ADA laws change!

Learn The Key ADA And FMLA Rules For Intermittent FMLA Guidelines, Reasonable Accommodation, And Other ADA And FMLA Employer Requirements

This comprehensive three-day FMLA and ADA seminar and workshop provides you with ADA and FMLA compliance guidelines for employers, including all the tools and practical knowledge you need to effectively manage your FMLA and ADA compliance responsibilities.

Specifically, this course covers the ADA and FMLA rules, laws, and guidelines for employers, as well as the rules for FMLA intermittent leave guidelines, the ADA Reasonable Accommodation requirement, what employers can do to protect against FMLA and ADA abuse, plus:
The ADA and FMLA rules on who is covered - and why

What is - and isn't - a disability

Employee eligibility

Leave entitlement

Employer posting requirements

Intermittent FMLA leave guidelines

When your duty to engage in the interactive process is triggered

Notifications

The laws protecting disabled individuals from discrimination

GINA's prohibition on acquiring genetic information, and its mandatory notice and recordkeeping requirements

What is - and is not - a "serious health condition"

Identifying "Essential Job Functions" and who is a "Qualified Individuals"

Medical Certifications

Fitness-for-duty testing

How to determine if the employee can perform the essential functions of the job

What is a "Reasonable Accommodation"

What types of accommodations have the courts found to be reasonable?

What types of accommodations have the courts found to be an "undue hardship" for the employer?

Responding when an individual refuses an offered accommodation

Modifications

Return-to-work options

Light or modified duty

Job restructuring or additional training

FMLA job and benefits restoration

The most common abuses of FMLA - and why it's happening

Tracking leave, including tips for FMLA intermittent leave

How to identify patterns, trends, and leave abuse history

Ending Leave

How to terminate an employee on a leave of absence without violating the FMLA or ADA

How FMLA, ADA, Workers' Comp, and state leave laws work together

What needs to be included in your FMLA and ADA policies
Practice The ADA And FMLA Rules That You Learn
In addition to teaching you the rules, we incorporate several interactive exercises so you can practice what you learn. These include:
Issues regarding eligibility and administrative requirements

Determining what is a substantial limitation to a major life activity

Analyzing reasonable accommodation requests

Handling overlapping leave and disability law dilemmas

Why a requested leave of absence under the ADA creates an entire minefield – particularly if the employee is on workers' compensation or FMLA
Special Bonus: Earn An FMLA Certification And An ADA Certification!
As a special bonus, you also receive access to our FMLA Training & Certification Program and our ADA Training & Certification Program!
Not only do these programs include numerous administrative tips and procedural recommendations for keeping in compliance, you also receive FREE updates whenever the law changes, plus the ability to earn a Certified Administrator designation!

Simply complete the Training & Certification Programs included with this course, then pass the exam and you will receive a certificate which is suitable for framing
Testimonials
Here are just some of what people are saying about this course:
...The instructor, Ann Kiernan, was FABULOUS! She knew the information very well. This was the best training course I have ever taken.

...My Staff Manager attended the course last year and had me go this time, and I see why: great training!

...The short questions at the end of each section in the training book were very helpful; our instructor had us answer them and then we talked through the questions and answers as a class.

...the instructor engaged us in discussion about our particular workplaces. He was very knowledgeable and pleasant. He did a thorough job in presenting the material and responding to questions. I would recommend the course to others and would be pleased to have him as my instructor in another course.

...I was very pleased with the class and was very impressed by the instructor's knowledge of the subject as well as her ability to present it quickly and well.

...Great instructor. I am fairly new to FMLA and learned a ton!

...The trainer was personable, and flexible, and willing to answer questions as we shared our personal work challenges that was extremely applicable to better understanding what was reviewed, but also very informative.

...Discussing different relevant cases with the presenter was helpful. He was very knowledgeable about the subject and provided sound feedback and expertise.

...Great class. Loved Susan. Learned a lot.

...Elga had wonderful real life examples which helped with understanding the subtleties of the more intricate laws

...Rare to find the FMLA and ADA together but is so relevant since they often intersect.

...I think it was great to provide the cases and real world examples, it shows examples of how the law relates to specific company situations

...excellent training, loved the class!

...I think our instructor's knowledge contributed to the success of our class. She was highly professional, and took the responsibility of training us seriously

...Great seminar. I liked the personal touch with individual situations being discussed.

...I really felt that the size of the class and the material helped a lot with the learning. It didn't make you feel lost in a class. I am very pleased that I had a chance to attend this course.

Other Info
PHR / SPHR re-certification credit hours: 18
SHRM PDCs: 18
Dates & Times:
Below are the times for this three-day course, which starts on the dates posted herein.
Day 1: 8am - 4pm
Day 2: 8am - 4pm
Day 3: 8am - 4pm
Early Bird Pricing Available
An "Early Bird" discount is offered for registrations made 30 days prior to the seminar date, so register today!
About The Provider:
HRcertification.com offers seminars, webinars, audio conferences, and online training programs to help you better understand and administer the regulations and compliance requirements for COBRA, HIPAA, FMLA, ADA, Payroll, Retirement Plans, Cafeteria Plans, and other federally-mandated compliance.

We also offer specialized seminars for HR Generalists, and on conducting Internal Investigations, as well as advanced courses on Strategic Leadership and Internal Investigations.

Used by almost every major company and TPA in the country, each of our programs includes numerous tips, examples, recommended procedures, realistic scenarios, and interactive quizzes - all designed to help ensure you are learning.

Our programs also allow you to earn either a valuable "Certified Administrator" designation (for our online programs) or a Skills Certificate (for our in-person seminar attendees)! We also offer a "Certified TPA" Program for Third Party Administrators!

Our programs also qualify for HRCI's PHR and SPHR re-certification credits, as well as SHRM's SHRM-CP and SHRM-SCP PDCs. Seminar Policies