Description: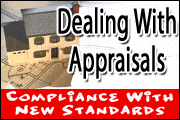 The past couple of years have seen significant new developments in real estate appraisals and evaluation rule and regulations, including revised Interagency Guidelines, new rules under Reg. Z, and additional requirements due to Dodd-Frank.

There also are restrictions against using AVMs (automated valuation models), BPOs (broker price opinions), and tax valuations that has upset many in the industry.

Are you and your team up to date on these requirements?

This training session goes in-depth on the details of the appraisal and valuation process, from both the lender and appraiser side of the game, to provide a thorough understanding of what is required and what you have to have.

Covered Topics:
New CFPB mortgage regulations under Reg. Z - additional requirements for certain loan types
Regulations and Interagency Guidelines - requirements for lenders and brokers
Clarified independence requirements and the importance of this to examiners
The many forms of appraisals and evaluations - what can you use and when? AVMs and BPOs aren't what they used to be
Can we accept a previous appraisal? Dealing with "readdressed" and "transferred" appraisals
USPAP rules and standards - how do appraiser rules influence what lenders must do?
How to achieve appraiser independence - you've got to prove it
Anti-coercion and undue influence provisions of Reg Z - what can you NOT do (or say)?
Who Should Attend:
Real estate lenders, compliance officers, auditors, underwriters, appraisers (in-house or external), closing agents, management, and anyone else involved in the real estate or residential lending process with a need to understand the current state of appraisal regulation and requirements.
The Presenter:
Carl Pry is a Certified Regulatory Compliance Manager (CRCM) and Certified Risk Professional (CRP) who is a Senior Director for Treliant Risk Advisors in Washington, DC. Through his working career, as well as through his experience as a banking attorney and officer, he has provided a variety of regulatory compliance and financial performance services to financial institutions and other clients throughout the country.
He has written extensively regarding consumer and commercial compliance, tax, audit, and financial institution legal issues, and is a frequent contributor to and currently serves on the Editorial Advisory Board for the ABA Bank Compliance magazine. He has spoken at dozens of banking, compliance, and state bar associations, and has conducted training sessions for financial institutions across the country.
About The Provider:
Your Partner for Ensuring an Engaged, Compliant Workforce Financial institution regulations are constantly changing. That means preparing your team needs continual attention, including the frontlines, compliance team, executive leadership and board of directors. Wouldn't life be easier if you had one place to go for all your compliance and professional education needs? You'll find what you need from OnCourse Learning.

We bring you:
40+ Years of Experience
600+ Engaging Online Courses
450+ Live & OnDemand Webinars
Webinar Descriptions, BankWebinars.com:

Live Session:
Attend the live session with the opportunity to ask questions to the presenter. You also receive a link to the handouts. All registrations for a live event will be given access to the OnDemand recording, at no additional cost, for 30 days following the event. This will allow a flexible alternative when last-minute conflicts intrude on scheduled events.

Live + OnDemand:
Includes two of the options above. Live session and 365 days access to On-Demand weblink plus a link to handouts.

Live + OnDemand & CD:
Includes all three options above. Live Session, 365 days of OnDemand, and CD-ROM plus handout links.