Description: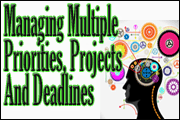 Gain control over time, tasks and priorities
Enroll now for this energizing one-day seminar if you need to get more done in less time...recognize your real priorities...keep track of numerous projects...­establish and meet deadlines...and eliminate bottlenecks.
This powerful one-day seminar teaches you the all-important skills that will help you deal with dozens of top priorities. Filled with practical how-to strategies, this time-management training will ensure that you:
Stop wasting time and get the clock working for you instead of against you
Take control of your multiple projects, even when they're all top priorities
Handle with ease all of the unexpected demands and unplanned situations that destroy the most careful scheduling
Stay cool, calm, and collected when the pressure is overwhelming and stress threatens your effectiveness
Set aside just one day, and you'll be able to manage multiple demands and priorities, get more done in less time, keep on top of numerous projects and deadlines, and eliminate pressure and stress from your work day. If you're too busy to attend, enroll today! For you, this seminar is truly a top priority!
Powerful Techniques That Make An Impact:
Plans that really work — for today, next week, next month, and next year — even when you've had trouble adhering to plans in the past
What to do first - when everything is a priority and expectations are high
Action plans that move projects ahead - even stalled ones
Innovative methods that really keep you on track through changing priorities, last-minute alterations, uncertainty, crises, and chaos
AGENDA
Managing Time: How To Work With, Not Against, The Clock
A 3-step checklist to help you pinpoint your most important priorities and decide how you must deal with each of them
7 true characteristics of time, and how misconceptions lead to needlessly wasted time
How good time management boosts productivity, increases satisfaction, and affords you more freedom
The 25 most common time wasters that can afflict even the most productive professionals
Easy techniques to deal with incoming mail, "FYI" copies, reports, publications, and other "desk cloggers"
How to hold truly meaningful meetings that prompt decisions, actions, and responses
Ways to prevent needless visits from coworkers and others that put a dent in your day's productivity
Taking Control Of Multiple Tasks: How To Run Your Life, Instead Of Your Life Running You!
How to identify the specific activities that are demanding too much of your attention — at the expense of other, more important priorities
"Where did the time go?" A simple, easy-to-use time log that answers the question precisely
A 7-point schedule for functional planning that works for the smallest to the largest projects
The practical manager's guide to goal-setting: 3 simple questions that help you set specific goals effortlessly
A step-by-step action plan that ensures you will meet your short- and long-term goals
Handling Unexpected, Difficult Situations — How To Plan For The Unexpected And Manage The Most Difficult People And Situations Easily
4 powerful rules for saying "no" that underscore your firmness and win respect
Real-life approaches to delegation that save you from time-consuming training, guidance, and involvement
Smart alternatives to delegation when you have no assistants or subordinates
How to rid yourself of long-standing duties that you and your position have outgrown
Firm, professional techniques to handle the toughest personalities — aggressive coworkers, negative attitudes, "know-it-alls," and more
Dealing With Pressure And Stress: How To Stay Calm And In Control, Even In The Face Of Chaos
Are you headed for "burnout"? The 7 specific symptoms that signal dangerous overstress
Tips to identify and defuse 16 hidden stressors in your work environment
A short behavior quiz that lets you assess your personality traits — and whether they make you more vulnerable to stress
6 relaxation techniques that calm you down in minutes — anywhere, any time
Sensible guidelines for fostering a competitive, stimulating work atmosphere without excess pressure and stress

CPE CREDIT
Fred Pryor Seminars and CareerTrack are registered with the National Association of State Boards of Accountancy (NASBA), as a sponsor of continuing professional education on the National Registry of CPE Sponsors. State boards of accountancy have final authority on the acceptance of individual courses for CPE credit.
CPE certificates will be available 10 days after your event has ended.
About The Provider:
Fred Pryor Seminars and CareerTrack, divisions of PARK University Enterprises, Inc., create one of the most respected international providers of professional seminars.

Since pioneering the one-day seminar in 1970 as Fred Pryor Seminars, our organization has built a reputation for high-quality, convenient, and practical business-skills training around the world, in every industry and sector.

Today, with more than 8 million satisfied customers, we continue to pride ourselves in providing the superior training you've come to expect from Fred Pryor Seminars and CareerTrack. Our cutting-edge research and course development are designed to meet the adult learning needs of your employees and your organization.

Fred Pryor Seminars and CareerTrack are your number one choices for training because we offer:
In-depth experience in the training industry

Consistent and comprehensive course offerings

High-energy and content-rich presentations

Multiple training tools, including on-site training, on-line learning, seminars, and A/V products

100% Satisfaction Guaranteed!
About Our Fred Pryor Training Seminars And Webinars
About Our Fred Pryor Communication Seminars

Our Fred Pryor seminars are presented in several cities and on various dates for your convenience in cities large and small. For instance, we offer Fred Pryor seminars in Houston, TX, Phoenix, AZ, Rochester, NY, and more on topics such as 'Dealing With Difficult People', 'How To Supervise People', and 'Leadership And Management Skills'.

About Our Fred Pryor Accounting Seminars

We offer several Fred Pryor accounting seminars, including Fred Pryor's Excel, Quickbooks, Microsoft, and other accounting topics. View the list of titles below for more information on our Fred Pryor accounting seminars.

Feel free to contact us if you have questions or need more information about any of our human resources training programs.