Description: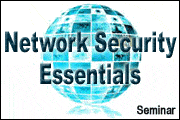 In this intensive three-day seminar you will review the basic operating characteristics and risks associated with LANs, WANs, client/server and other forms of networking and distributed computing architectures.

Learning Objectives:
Survey best practices for securing and auditing network applications, interconnection devices, and remote access and perimeter security services
Map and organize the use of built-in and add-on tools to security policy and audit requirements to determine the essential topics that must be addressed in compliance and risk management, security administration standards and procedures, and audit programs
Receive security and audit checklists at the end of each control-related section. (Note: This seminar covers the topics found in Chapters 3 and 4 of the CISA Review Manual.)
Bonus: You will receive the MIS Swiss Army Knife Reference, listing hundreds of valuable information security and audit resources, including free software security and audit tools.
Agenda
1. Defining The Distributed Information Technology Environment
Defining A Network
Network Terminology
Computing Models: Centralized And Distributed
Shared Data Networks
Distributed Computing: Client/Server, Peer-To-Peer, Middleware
Major Risks To Network Security
Defining The Scope Of Network Security And Audit Programs
Locating Network Security Control Points
2. Developing A Reference Framework For Network Security And Audit: Network Standards And Protocols
Protocol Defined
Network Communications Standards And Rules For Communications
Categorizing Network Protocols: Media Access, Internetworking/Transport, And Application/End-User Services
Protocol Stacks: Frameworks For Networking
Open Systems Interconnection (OSI) Reference Model
Transmission Control Protocol/Internet Protocol (TCP/IP)
Network Addresses: Physical/Media Access, Logical Numeric And Domain Names
TCP/IP Application Ports: Foundation For All Network Security And Audit Risk Analysis
3. Demystifying Network Media Access Technologies: Local Area Networks (Lans) And Wide Area Networks (Wans)
Geographical Network Delineation: PAN, LAN, CAN, MAN, WAN
Untangling The 'Nets: Internet, Intranets, And Extranets
Common Network Transmission Media: Twisted Pair Copper Wire, Fiber Optics, Wireless
Physical LAN Topologies: Bus, Ring, Star, Tree
Logical LAN Topologies: Ethernet, FDDI
WAN And Internet Connections: Analog Dial-Up, Leased Lines, Residential Broadband
Switched WAN Network Services: Frame Relay, ATM, MPLS
Surveying Wireless Technologies, Risks, And Safeguards: Personal Area, Local Area, Wide Area
Security And Audit Considerations For Wired And Wireless Media Access Connections
4. Network Interconnection Devices: Functionality, Management, And Security
Positioning Network Devices In The OSI Reference Model: Btidges, Switches, Routers, Wireless Access Points
Network Domains And Segmentation
Network Device Maintenance/Management Port Access Security
Simple Network Management Protocol (SNMP)
Enterprise Authentication Systems: TACACS+, RADIUS, Diameter
Best Practices For Network Interconnection Device Security And Audit
5. Enterprise Network Directory Services Security And Audit
Overview Of Critical Network Directory Services
Lightweight Directory Access Protocol (LDAP) Directories
Domain Name System (DNS)
Securing And Auditing Directory Services
6. Keeping A Lid On Network Host Services Security
Common Server And Workstation Vulnerabilities And Risks
TCP/IP Applications And Associated Risks
Host And Network-Based Tools For Locating And Assessing Active Network Services Security
Developing A 3-Layer TCP/IP Application Risk Analysis And Management Methodology
Detection And Protection Of Network File Sharing
Remote Control Program Do's And Don'ts
Averting The Perils Of Networked Printers, Print Servers, And Multi
Function Office Devices
7. Circling The Wagons: Network Perimeter Security
Hacker Intrusion Objectives
Network Security Strategies
Legal Warning Banners
Network Demilitarized Zone (DMZ) Architectures And Key Control Points
Network Firewalls And Proxy Servers: Policies, Architectures
Intrusion Detection/Prevention Systems
Remote User Authentication Credentials
Network Encryption And Virtual Private Networks (VPNS)
Reducing The Risks In Using Software As A Service (SAAS)/Cloud Computing
Best Practices For Network Perimeter Security And Audit
8. Wrap-Up: Performing A Network Security Risk Analysis
Identifying The Network Assets And Control Points
Categorizing The Threats And Associated Risks
Vulnerability Management: Identifying, Tracking, And Closing Serious Network Exposures
Defining "Perfect" Network Security
A Practical Strategy For Information Security
12-Point Plan For Success
Who Should Attend?
Information Security Managers and Analysts; Security Administrators; Information Technology Managers, Planners and Strategists; Information Technology Auditors; Consultants.

Prerequisite
IT Auditing and Controls, or have equivalent experience.

Learning Level
Intermediate

Dates & Times
Classes start on the date(s) posted herein, and run from 8:30am to 5pm daily, except for the last day of class, which ends at 3pm.
About The Provider:
Founded in 1978, and with offices in the USA, UK, and Asia, MIS Training Institute - aka MISTI - is the international leader in audit and information security training.

Helping audit and infosecurity professionals stay at the top of their game has always been at the core of MISTI's mission. To that end, MISTI has developed and focused its seminars, conferences, and symposia on the wide-ranging needs of auditors and information security practitioners who are charged with controlling complex systems and business environments.

All MISTI training classes are led by industry experts. MISTI training classes are delivered by professionals who have been in the field and practice what they teach. Additionally, MISTI training's unparalleled course curriculum covers the most up-to-the-minute topics, provides proven audit and security practices, and delivers the information needed to be successful in today's organizations.

MIS Training Institute is registered with the National Association of State Boards of Accountancy (NASBA) as a sponsor of continuing education on the National Registry of CPE Sponsors. NASBA Sponsor Number: 103321

Cancellation/Refund Policy: MIS Training Institute

A full refund less a $100 administrative fee will be given for cancellations received 15 days or more before the event. Tuition is non-refundable for cancellations made 14 days or less before the event. You may, however, transfer your tuition to another MIS Training Institute event, less a $195 administrative fee. Transfers are valid for 12 months from the time of initial cancellation. Substitutions are welcome at any time.

Those who do not cancel before the MISTI event date and who do not attend are responsible for the full non-refundable, non-transferable tuition.