Description: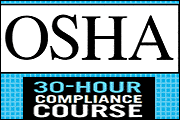 Is Not Being In Compliance With OSHA Regulations Costing Your Organization?
According to the United States Department of Labor, businesses spend $170 billion a year on costs associated with work-related injuries and illnesses.
This can contribute to decreased employee morale, reduced productivity, and higher on-the-job stress, while leading to increased workers' comp claims, higher insurance premiums, retraining costs, absenteeism, and lower-quality products and services.
Workers whose employers take steps to protect their health, fitness, and safety on the job are more likely to report job satisfaction, enjoy a higher quality of life, contribute a more optimistic, enthusiastic outlook, and interact positively with peers and superiors.
This Intensive Course Was Created To Support OSHA Safety Initiatives, Enhance OSHA Compliance, And Protect Employee Health And Safety
Our OSHA 30-Hour Training course represents excellence in OSHA training. Over five days, your trainer will thoroughly explore hazard identification, prevention, and mitigation, as well as OSHA's complex standards, criteria, and requirements, delivering information that is easy to grasp.
As a result, you'll comprehend more, remember more, and be better-equipped to apply what you've learned once you've returned to the workplace. Creating your own safety training and support programs, identifying and eliminating hazards and unhealthy situations, promoting a company-wide culture of safety - everything becomes easier when you are not overwhelmed by too much information in a short time frame. This course is interactive, well-balanced, interesting, and most of all - effective.
Protect Your Employees From On-The-Job Hazards, And Your Organization From Costly Fines And Penalties With Our OSHA 30-Hour Training Course!
Our OSHA 30-Hour training course will give you the practical, hands-on experience you need to pinpoint hidden or overlooked safety and health issues, address them, and become fully compliant with OSHA's general industry standards.
Your organization will benefit financially as workers become more productive while less time is lost to injury and illness. The likelihood of hefty penalties and fines levied against you for non-compliance will lessen as well.
---
AGENDA
---
Day 1
Welcome And Overview Of The Week's Training
Employers covered by the OSHA Act
OSHA Training Institute Introduction to OSHA Note: This module includes materials mandated by OSHA
Employee's rights under OSHA
Employer's responsibilities under OSHA
Types of OSHA standards and how they are organized
Safety & Health
Safety and health programs within the workplace
Management leadership and employee involvement
Hazard prevention and control
Safety and health training
Day 2
Record Keeping & Reporting
Reporting procedures to follow for Deaths or Multiple Hospitalizations
Exceptions
Record keeping 29 CFR, part 1904
Inspections, Citations, & Penalties
The inspection process: how it works, OSHA priorities, and inspection results
Employer options after an OSHA inspection
The different types of violations
How to contest citations after an inspection
Follow-up inspections and failure to abate
Walking & Working Surfaces
Guarding holes as well as floor and wall openings
Ladders: portable metal, wood, and fixed
Safety requirements for scaffolding
Fall Protection in General Industry
Day 3
First Aid
Emergency eye washes and showers
First aid trained first responders
Bloodborne Pathogens
Elements of a successful exposure control plan
Communication of hazards to employees through signs and labels
How to determine an employee's exposure
Sharps disposal containers
Universal precautions and general safe work practices
Immunization and post-exposure follow-up program
Personal Protective Equipment (PPE)
Types of protection (eyes and face, respiratory, head, foot, hand and body)
Lifesaving equipment
Personal fall arrest systems
Positioning device systems
Materials Handling & Storage
General materials handling
Putting together a powered industrial truck training program
Permit-Required Confined Spaces
General requirements
Required forms of warning
Pre-entry atmospheric testing
Required ventilation
Day 4
Lockout/Tagout
Materials and hardware: lockout/tagout devices, requirements, and criteria
Application of energy control devices
Shutting down machinery and equipment
Applying and removing lockout/tagout devices
Inspection of machinery and equipment
Contractors, group lockout/tagout and shift changes
Machine Guarding
General requirements for all machines
Abrasive wheel machinery
Mechanical power presses
Hand and portable powered tools and other hand-held equipment
Welding, cutting, and brazing
Hearing Conservation
Required monitoring of occupational noise exposure
Required audiometric testing
Required hearing protection
Exposure and testing records retention
Types of investigations, investigative techniques, and investigative procedures
Day 5
Hazardous Materials
Flammable and combustible liquids
Compressed gasses
Safety management of highly hazardous chemicals
Hazardous waste operations and emergency response
Exit Routes, Emergency Action Plans, Fire Prevention Plans, & Fire Protection
Fire prevention plans and detection systems
Employee alarm systems
Portable fire extinguishers
Standpipe and hose systems
The minimum elements of an emergency action plan
Electrical
Electric utilization systems
Wiring methods, components, and equipment
Specific purpose equipment and installations
Safeguards for personnel protection
Hazard Communication
Purpose of the standard
Hazardous chemical inventory listing
Material Safety Data Sheets (MSDS)
Labeling and training
Hazard assessment for non-routine tasks
Work performed by outside contractors
About The Provider:
Fred Pryor Seminars and CareerTrack, divisions of PARK University Enterprises, Inc., create one of the most respected international providers of professional seminars.

Since pioneering the one-day seminar in 1970 as Fred Pryor Seminars, our organization has built a reputation for high-quality, convenient, and practical business-skills training around the world, in every industry and sector.

Today, with more than 8 million satisfied customers, we continue to pride ourselves in providing the superior training you've come to expect from Fred Pryor Seminars and CareerTrack. Our cutting-edge research and course development are designed to meet the adult learning needs of your employees and your organization.

Fred Pryor Seminars and CareerTrack are your number one choices for training because we offer:
In-depth experience in the training industry

Consistent and comprehensive course offerings

High-energy and content-rich presentations

Multiple training tools, including on-site training, on-line learning, seminars, and A/V products

100% Satisfaction Guaranteed!
About Our Fred Pryor Training Seminars And Webinars
About Our Fred Pryor Communication Seminars

Our Fred Pryor seminars are presented in several cities and on various dates for your convenience in cities large and small. For instance, we offer Fred Pryor seminars in Houston, TX, Phoenix, AZ, Rochester, NY, and more on topics such as 'Dealing With Difficult People', 'How To Supervise People', and 'Leadership And Management Skills'.

About Our Fred Pryor Accounting Seminars

We offer several Fred Pryor accounting seminars, including Fred Pryor's Excel, Quickbooks, Microsoft, and other accounting topics. View the list of titles below for more information on our Fred Pryor accounting seminars.

Feel free to contact us if you have questions or need more information about any of our human resources training programs.