Description: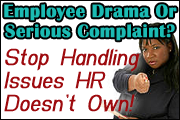 Why is that HR is the place employees go to "vent" about their issues?

The reason is simple: HR tends to have better "people skills" and it's just easier to go to HR and have HR fight all the battles than it is to deal with the conflict directly.

Unfortunately, the sheer number of employee issues that HR deals with on a daily basis is now bordering on the ridiculous, yet if you ask any HR Generalist or Manager today what their #1 frustration is, they'll likely tell you it's dealing with employee issues, many of which supervisors and managers should've owned!

Let's face it: people issues can be messy and often require dealing head-on with conflict, so most people would just rather avoid it altogether.

However, when employees and managers continually avoid the conflicts, and HR gets too involved, what results is an enabling behavior. Over time, word gets around that HR fights all the battles, so employees just keep on coming in to HR and, as a result, HR department productivity decreases, conflicts intensify, and already fragile relationships with supervisors and department heads become even more tenuous.

Learning Objectives:

In this informative audio conference, learn how to sift through all the employee drama to clearly identify legitimate employee relations' issues that need to be investigated - and which ones you should push back on or have your managers and supervisors handled themselves. Additionally, you'll learn strategies for creating boundaries in HR to minimize the flow of employee relations' complaints. Specifically:
How to determine the difference between employee concerns—and employee complaints
Understanding the root causes to employee complaints
Understanding how HR has turned into "The Principal's Office" - and how to change this perception in a professional manner
The three key words to clearly define the types of employee complaints HR does own
Introduction to The Bermuda Triangle of employee relations - and how to stay out of it
How to implement an Employee Relations' Policy to clearly define a process for handling complaints
Why having an Open Door Policy may not be as effective as you think
How getting involved in "non-HR" can create the perfect storm for retaliation
How to build supervisor and employee capability for handling issues on their own
How to establish boundaries in HR
About Your Speaker:
Natalie Ivey is President and CEO of Results Performance Consulting, Inc., a firm specializing in leadership and employee development training and continuing education programs for the HR profession.
Ms. Ivey is an author and a national public speaker with more than two decades of leadership and HR management experience with Fortune 500 organizations. She is a member of the Society for Human Resource Management and holds the Senior Professional in Human Resources certification (SPHR). Ms. Ivey is a nationally-known speaker on a variety of topics within the HR profession and is known for her "tell-it-like-it-is", direct approach to teaching HR education.
Ms. Ivey routinely works with individuals, small businesses, and larger corporations to address destructive leadership behaviors and organizational dysfunction. She designs customized training programs to help employers correct poor behaviors, minimize legal exposure, and improve performance and profitability.
HRCI Credits
This program has been approved for 1.5 re-certification credit hours for HRCI's PHR and SPHR designations through the HR Certification Institute. For more information about certification or re-certification, please visit the HR Certification Institute website at www.hrci.org. The use of this seal is not an endorsement by HRCI of the quality of the program. It means that this program has met HRCIs criteria to be pre-approved for re-certification credit.
SHRM Professional Development Credits
This program is valid for 1.5 Professional Development Credits (PDCs) for the SHRM-CP or SHRM-SCP designations. For more information about certification or re-certification, please visit www.shrmcertification.org.