Description: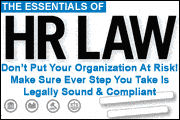 Get a new perspective on your HR challenges and new tools for meeting them confidently and legally!

Class Action lawsuits...hints of sexual harassment...regulations for interviewing and hiring. There's no end to the legal pitfalls you face every day on the job, and as a human resources professional, you're expected to stay on top of it all.

Meeting that challenge requires continuing education that keeps you abreast of the latest legal changes along with the best employment practices. That is why this seminar is so important.

In one information-packed seminar, you'll learn what you need to know to handle the legal issues and gray areas you face every day. You'll also learn how to think like a lawyer, so you can anticipate and sidestep problems before they arise.

This alone is well worth the price of the seminar. If you deal with the legal issues surrounding human resources as an HR professional - or even as a manager or supervisor - you need to enroll today!



---
AGENDA
---
Legislation, Case Laws, Trends, and Hot Issues
The most important employment legislation and how it affects your workplace and job
What you must know about the Americans with Disabilities Act as it relates to interviewing and hiring
COBRA requirements — an update on the latest changes
A Fresh Look at Essential Employment Practices
Why how and where you recruit can inadvertently constitute discrimination
Hiring practices that will stand up under an EEOC undercover audit
Documentation you must have if you're called to court
Words you must never use in describing classes of employees
Practical Insights into HR Administration and Benefits
Tips to help you avoid common mistakes in meeting the requirements of FMLA
Up-to-date COBRA changes that affect the way you administer benefits
New legalities in reporting incentive pay, benefits, and other perks
How to successfully evaluate, discipline, and correct performance problems among managers
The Legalities of Policies, Procedures, and Employment Handbooks
How to communicate policies and procedures so they will be easy to understand — and hold up in court
What you must do to ensure that employment policies and procedures comply with the law
How to recognize legally weak language, unclear definitions, and vague employee rules
What absolutely must be achieved during employee orientation for legal reasons
---
Also Available: Our Certificate Program For HR Generalists Seminar
---

This intensive, three-day training program includes 14 information-packed sessions - plus Interactive Exercises - covering everything you need to excel as and HR Generalist. Go to http://HRTrainingCenter.com/showSEMDetails.asp?TCID=1003551 for more details.
About The Provider:
Fred Pryor Seminars and CareerTrack, divisions of PARK University Enterprises, Inc., create one of the most respected international providers of professional seminars.

Since pioneering the one-day seminar in 1970 as Fred Pryor Seminars, our organization has built a reputation for high-quality, convenient, and practical business-skills training around the world, in every industry and sector.

Today, with more than 8 million satisfied customers, we continue to pride ourselves in providing the superior training you've come to expect from Fred Pryor Seminars and CareerTrack. Our cutting-edge research and course development are designed to meet the adult learning needs of your employees and your organization.

Fred Pryor Seminars and CareerTrack are your number one choices for training because we offer:
In-depth experience in the training industry

Consistent and comprehensive course offerings

High-energy and content-rich presentations

Multiple training tools, including on-site training, on-line learning, seminars, and A/V products

100% Satisfaction Guaranteed!
About Our Fred Pryor Training Seminars And Webinars
About Our Fred Pryor Communication Seminars

Our Fred Pryor seminars are presented in several cities and on various dates for your convenience in cities large and small. For instance, we offer Fred Pryor seminars in Houston, TX, Phoenix, AZ, Rochester, NY, and more on topics such as 'Dealing With Difficult People', 'How To Supervise People', and 'Leadership And Management Skills'.

About Our Fred Pryor Accounting Seminars

We offer several Fred Pryor accounting seminars, including Fred Pryor's Excel, Quickbooks, Microsoft, and other accounting topics. View the list of titles below for more information on our Fred Pryor accounting seminars.

Feel free to contact us if you have questions or need more information about any of our human resources training programs.