Description: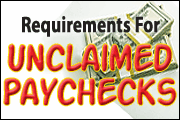 Amazingly, departing employees don't always collect all wages owed to them. Unfortunately, as a payroll professional, that becomes your problem!

Each state has specific laws and requirements on how employers must report, remit, and document amounts for checks that are uncashed by employees. As you can imagine, escheat or unclaimed wages can become a large compliance issues for employers.

And now, many states are turning an ever vigilant eye towards unclaimed wages as a source of revenue that can be easily tapped with existing laws. All they have to do is to crackdown on enforcement - and they are doing just that!

Though non-compliance may be simply a matter of the company not being aware of their reporting responsibilities, it won't stop the huge fines and penalties for failing to report unclaimed wages.

Failure to comply with state regulations could now result in audit assessments, significant interest accumulations, and criminal penalties. And organizations with corporate headquarters in one state and employees in other states could be liable for penalties in all states that they have employees. Do you know your obligations?

Learning Objectives

This training session will review the laws of all 50 states with regards to unclaimed wages. By attending this audio conference you will learn:
The definitions of unclaimed properties and escheat law
The difference between tangible and intangible property that can go unclaimed
State-by-state reporting and remitting requirements
State-by-state review of dormancy period laws and due diligence requirements
The difference between reporting and remitting
Payroll Department's role and responsibilities for unclaimed property
What types companies are at higher risk of an audit
Record retention requirements by state
Best practices for unclaimed paychecks
About Your Speaker
Dayna Reum, CPP, FPC, is a payroll professional with over 15 years experience in both teaching and handling payroll.
Ms. Reum holds both a Certified Payroll Professional and a Fundamental Payroll Certification designation, and is a frequent presenter on various payroll topics. Dayna has worked for companies such as PetSmart, Honeywell, and the American Payroll Association.
Dayna also serves on the National American Payroll Association on the national Strategic Leadership Task Force, has received a Citation of Merit and is a Gold Pin member of the APA. She is certified in HR hiring and firing practices, and is a Six-Sigma Greenbelt.
HRCI Credits
This program has been approved for 1.5 re-certification credit hours for HRCI's PHR and SPHR designations through the HR Certification Institute. For more information about certification or re-certification, please visit the HR Certification Institute website at www.hrci.org. The use of this seal is not an endorsement by HRCI of the quality of the program. It means that this program has met HRCIs criteria to be pre-approved for re-certification credit.
SHRM Professional Development Credits
This program is valid for 1.5 Professional Development Credits (PDCs) for the SHRM-CP or SHRM-SCP designations. For more information about certification or re-certification, please visit www.shrmcertification.org.
About The Provider:
The Industry Calendar creates and sells webinars, audio conferences, and seminars for busy business professionals.

For over ten years we've done the work of listing the important, don't-miss events in one convenient location so you can quickly and easily learn about key training topics that keep you up-to-date on trends and best practices, all while helping to keep you in compliance with the various rules and regulations affecting your organization.