Why Use Audio Training
Whether you call them webinars, webcasts, teleseminars, audio conferences, or something else, audio training is an excellent and inexpensive way to get trained.
How Audio Training Sessions Work
You attend audio presentations via the Internet, phone, or mobile device at a specified date and time for "live" versions, or at your convenience for "recorded" versions.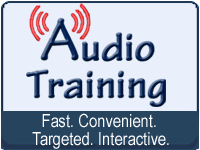 The live versions are interactive, meaning that participants can ask questions in real time. Recorded versions are also available!
Benefits To Audio Training
The following are just some of the reasons to utilize audio training for your organization:
Fast, Convenient, Targeted - And Interactive!
You receive convenient, targeted, and interactive learning at the comfort of your desk or office without any out-of-office time - and with actionable steps or processes you can put to use immediately.

Plus, there is no travel time or costs, or time away from the office! You and your colleagues are back at work immediately after the session ends!
Can Train Multiple People For One Low Cost!
Have as many colleagues as you'd like to listen in on a single phone line! You pay by the location, not by the person!
Can Be Recorded For Future Usage Or Multiple Training Sessions!
Though with recorded versions you do lose the ability to ask questions, you gain the ability to hear the presentation numerous times, to share it with others in your office, or to use it for referesher training.
Training Materials Included!
Handout materials are made available to you prior to the call so you can preview the session, prepare questions, and take notes!
Guaranteed!
Our audio conferences are 100% satisfaction guaranteed!
Related Links: